Boys like cars. My dad is a cars guy, has always been. Not a racing fan, but definitely an enthusiast who gets his hands dirty often. Me - I drove bumper cars in amusement parks a few times and that was it all the way till 2021, when I've caught a few episodes of Drive to Survive on Netflix.
That show SUCKS and is not representative of what F1 or racing is BUT it's popular, it has got many new people onboard - good on you, netflix.
Everyone can race a bit! If you're Michael Fassbender - Porsche are going to give you a team, a car and a youtube show thing!. If you're like me: no license, no knowledge and no real life skills LATE BLOOMER - big hugs.
Our three easy options are: go karts, sim racing and driving rc toys. Buckle up, I've got some thoughts, just for you.
"A bit of motorsport"
I've been to a go kart track in Kiev once, many years ago. There were no prerequisites outside of "wear a helmet" and "don't try to bump into other people too much". Naughty 10 year olds were bumping into me the whole time, but I HAD FUN nevertheless.
Racing at Berlin-kart was a different story. First there was a mandatory briefing about the rules and signals you can get (optional for 40% of our group who didn't speak german, for us - the dude tried a few sentences and then just gave up on this whole idea)
Then there was a qualifier and the race! I've qualified somewhere at the very bottom of the grid, obviously, but there were plenty of giggling girls and cowards that day, to create some traffic behind me too :D
My best instructor friend, who didn't instruct us because he's too shy of his english skillz kept waving to me with his orange flag. GOOD NEWS: I KNOW MY FLAGS! He meant i'm about to be overtaken. No problemo! I'm not competetive, all the PRO RACERS in our little saturday lunchtime sesh should get a chance to set their best time! Here's the catch..
No matter what I did: pressing more to the inside, pressing more to the outside, getting off the race line - reaction was always the same: THE DUDE WAS VERY DISPLEASED with me.
At some point he runs all the way across the track to me and this happens:
You don't first driva. You don't first place. You're ze last place.
I'm yet to try going there or some other karting place. To this day I'm nervous there's something inherently wrong about me behind the wheel😂
My karting career ambition is to keep working hard to the glorious day when i can finish a race without getting shit from no one. And I'll get there, one day, I hope.
Shy guys motorsport
Videogames, bruh! I've learnt all I know about life from videogames.
There's plenty of youtube videos on "how to get into simracing" but TLDR:
buy yourself a wheel
pick a game that supports your wheel
git good.
If you're an XBOX BRUH like I am (throws an X crossing his arms in the air) stay away from assetto corsa competizione, since on xbox IT'S NO BUENO.
Forza Horizon has the most ammount of long unskippable cutscenes, but once you get going - it's fun.
Codemasters games are good. I like Grid Autosport, Grid 2019, dirt 5, dirt rally 2.0 and F1 2021. ALL BRILLIANT GAMES!
Here, if you wanted my hot takes - that's what i like.
If you're not 100% convinced on investing into a wheel and a game, you can go try Mydays-Erlebniswerk on Zoo. My baby Tine got us some experiences there booked as my birthday present and it was real fun.
I've got 30min of doing laps in 911 and a 30min race against Tine in their F1 cars.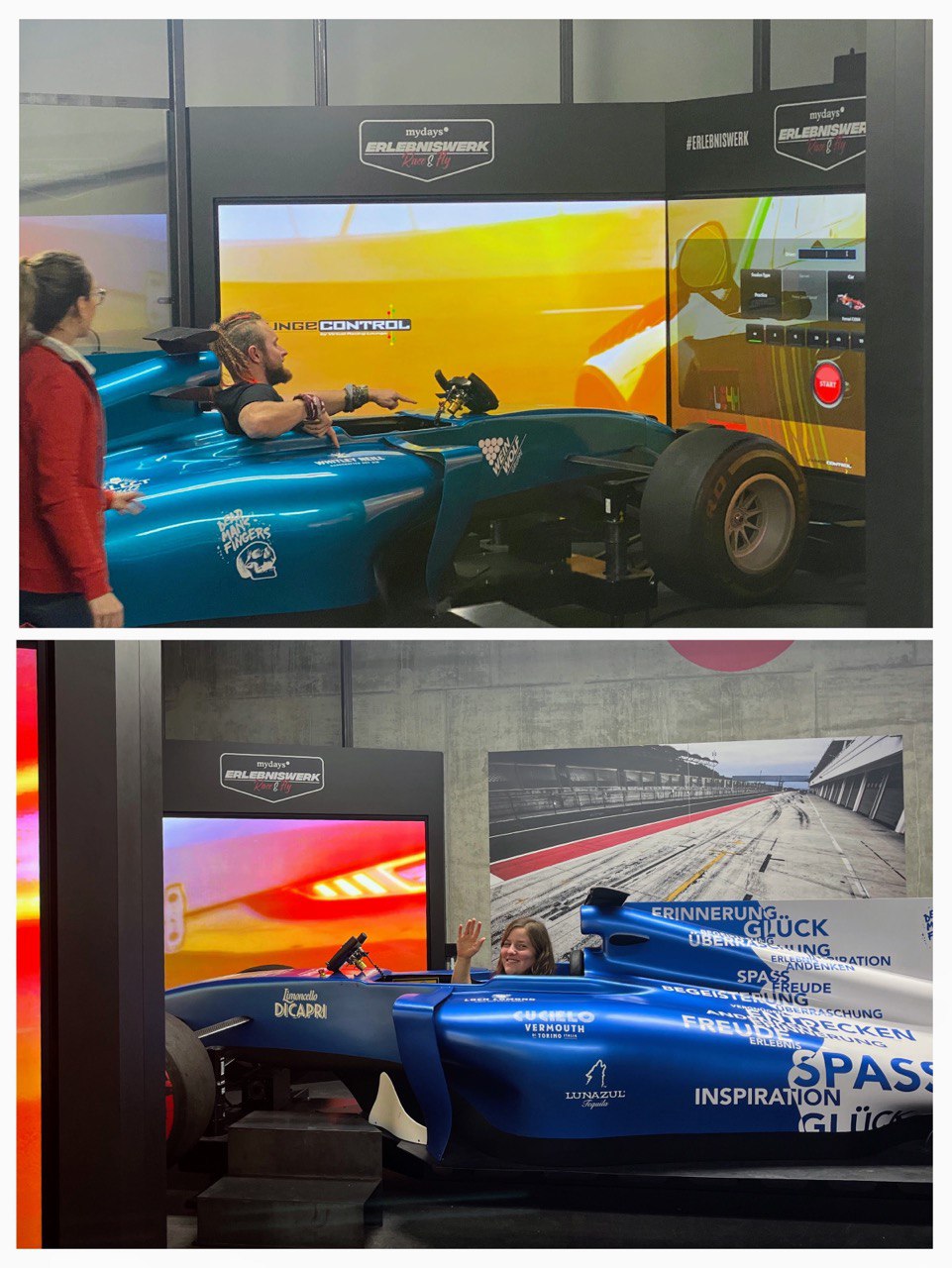 Both "racing" simulations were PC versions of Assetto Corsa. A direct drive wheel is gutted into bodies of real cars, all cars are full-auto, clutch isn't wired to anything all assists are ON.
Everything to make sure nobody will feel like he's not good enough to spend money there (I approve this business practice of theirs, surprisingly uncommon for Berlin).
Now I'm staying home with a nasty cold, and driving around a bit in Forza Horizon is my new favorite thing
RC Cars, RC boats, FPV drones and such
Flying drones isn't racing cars, but did you know SIR Lewis Hamilton started racing rc cars?. Approx 200-300$ would get you your first car (or drone), radio (the control unit to steer and such), maybe even a screen or a pair of goggles if you plan to drive/fly in FPV (first-person view).
There are kits like this from betafpv and similar ones from HAPPYMODEL for example.
And if your budget is under 100$ - you can buy a radio that's USB-compatible, and use it to steer your drone in a simulator game. I recommend Liftoff that's easy 10-20hrs of fun, right there, just flying in circles.
And all reviews of cool RC toys are on https://oscarliang.com/. Here, I have said it!
Check out the DVR of a dude ripping somewhere in a field. With a pace like that - ISN'T THAT RACING?
cool stuff, right?
My big conclusions
A great man with two first names said once: I wanna go fast.
Who doesn't? Going fast is stimulating and fun. Let's go fast, bruvs (and sisters). As always: reach out if you have something to tell me about racing, and I'll see you next time, action peeps!