Action Boys are out on tour! Expect more oceanic content soon.
In the meanwhile, I'd like to share some of my Ericeira experiences with you guys.
First time I visited was May 2018. By then I grew tired of "just laying on the beach" vacations, and wanted something more akin to my winter snowboard trips. A coworker recommended to go to a surf camp in Ericeira.
5 consecutive years of going to Ericeira later, I'm writing this longread.
Everything surf
I've heard that not so long ago, the place was a fisherman village. Some still think of it as such, but the density of surf rentals, shops and schools all imply "It's a touristic surfer destination NOW".
You can still see Fishermen too! But not as many
Signature portuguese architecture, brick-paved roads and narrow streets are all present, just expect more loud american and german millenials with surfboards everywhere in those streets.
In 2018 I landed in Ericeira Surf House. Nice place, very nice people, a bit too far away from center of Ericeira, but that's the only downside I can think of.
In one week I have learnt ... something.
No blame to the school, guess I wasn't too motivated to "really push" myself. On day 2 or 3 out of 7 I started catching the wash myself, not doing the "let the trainer hold your board" carousel and by day 5 I was even kind of "succeeding". Still, more tallented dudes ended up paddling outside and stuff, so expect to do better then me.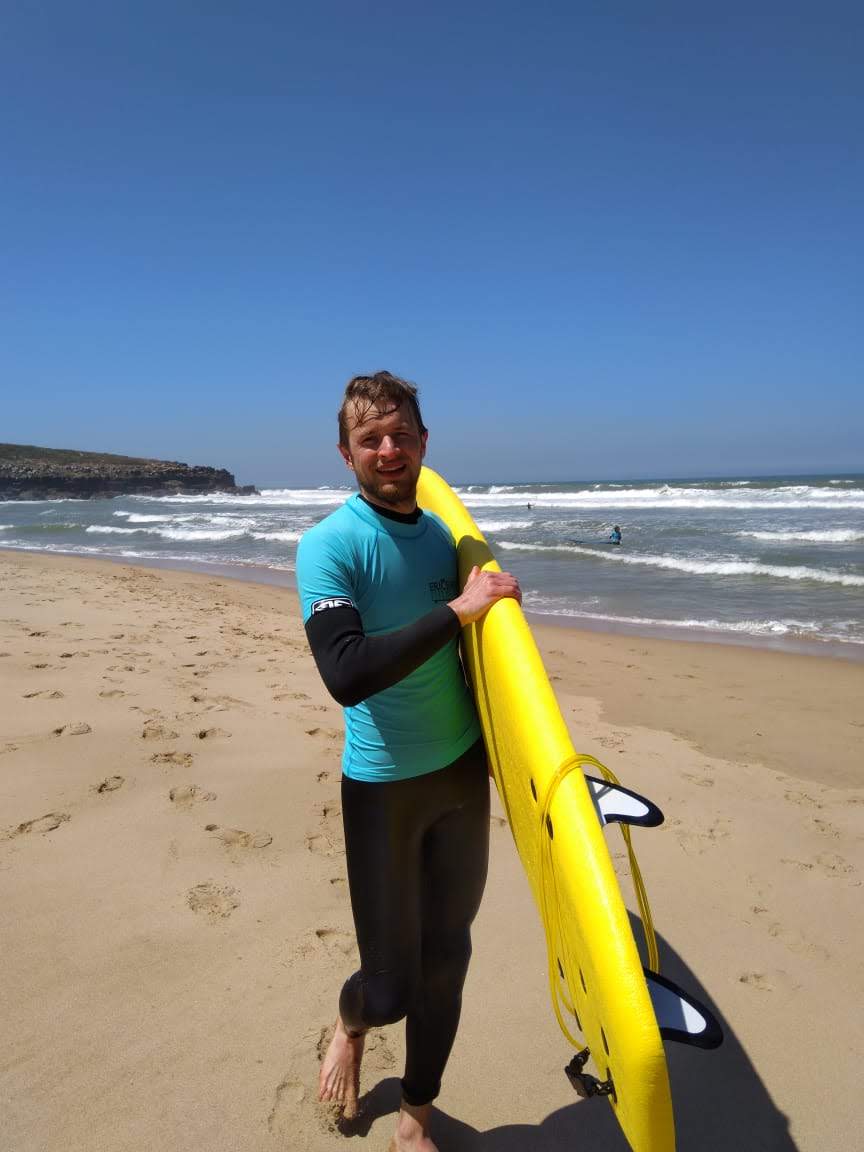 a very un-cool picture from 2018
2019-2021 I've been staying and surfing with Ericeira 55 dudes. The owner, Goncalo, is a true legend, the school is very comfy, the hostel is closer to the center and overall I only have good things to say about everything that happened there. Shout out to Hugo, Miguel, Joao and all the cool dudes who taught me some moves.
November 2021 I had a shitty experience with a surf camp in Canary islands, and by then I would already surf 3-4 weeks a year, so the "paddle in the sand, dig deeper" bit and 40min gymnastics on the beach all were becoming more and more tedious and frustrating.
Don't get me wrong, schools are great. They give you gear, they show you around the local spots, they drive you, they might save you if you get stuck somewhere... Advantages are endless.
All of this being said, I'm doing things on my own from now on.
Just bought my first wetsuit and first surfboard last week, big emotions here, check my WAXING SKILLS: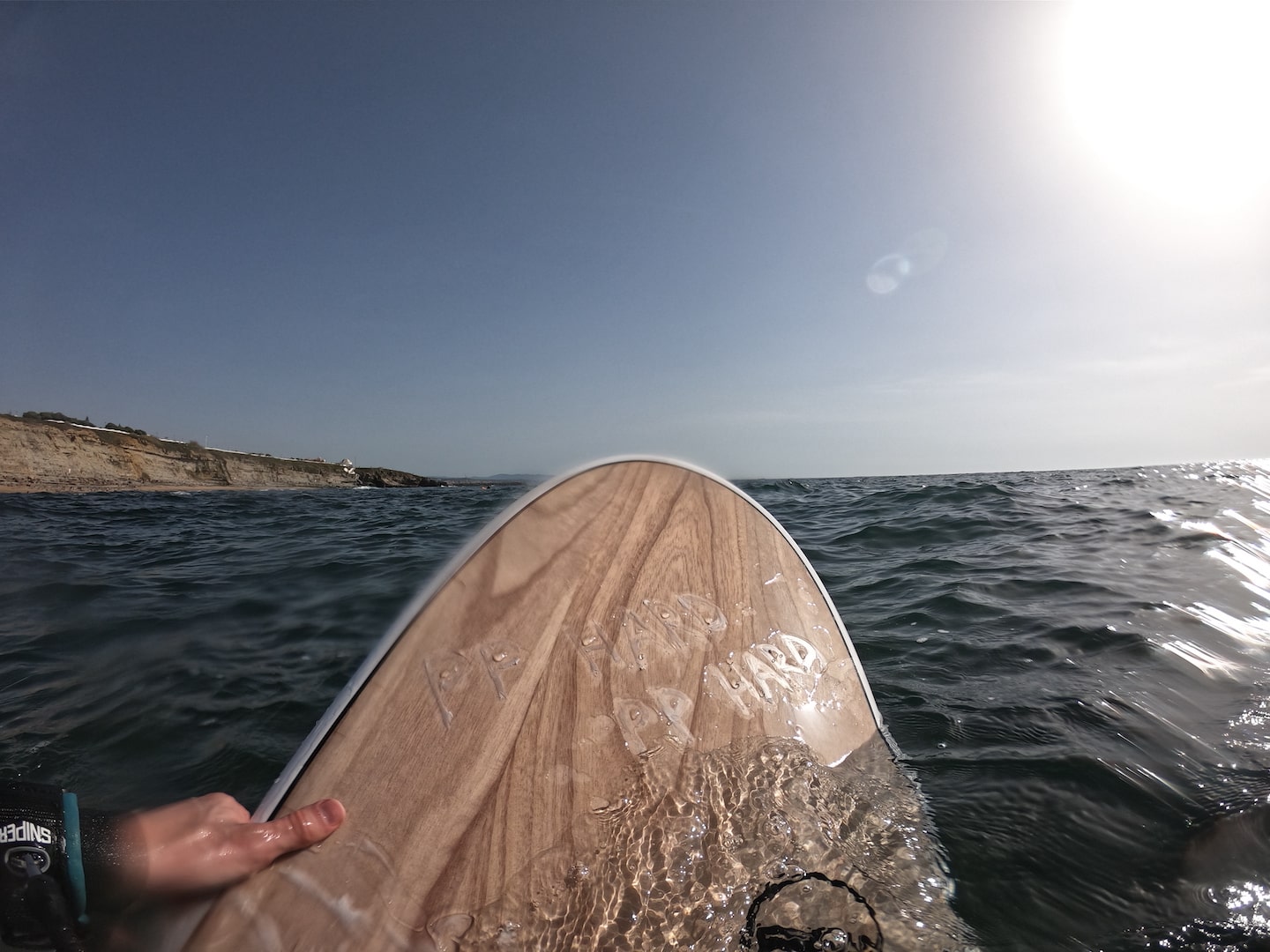 Everything else
Outside of surf there's a lot of bodyboarding, skimboarding, even dudes dropping on SUPs. There's nice food, lotta cold beers and every once in a while you can go skate or do mountain biking too.
I highly suggest you always plan something on-land at least once a week for every week of surfing, to really "enjoy life to the max". Otherwise these surf-trips might start feeling dull.
Here's a clip of me doing my first ever trail, while i was on a trip here in 2021
i might wanna do this again, eventually, surely was a memorable day
What i'm really trying to conclude is
Go get your little piece of surfing. Screw the "git good" elitist bullshit, just do everything at your own pace. A lot of us will never catch-up with what's considered to be "good enough" in the particular moment of time. It does not mean you can't enjoy playing in the water and riding some cute small waves.
Ericeira is as good of a place to try it out as any. And make sure you go pump that skate-park too, and go to a fish-restaurant, and have some wine, and try skimboarding the beach and those bike tours too. It's all very nice stuff.
Berlin action boys recommend you to check Ericeira out.